Welcome to our website....
Sale No. 63
Internet Sale 63 unsold lots are now available for purchase.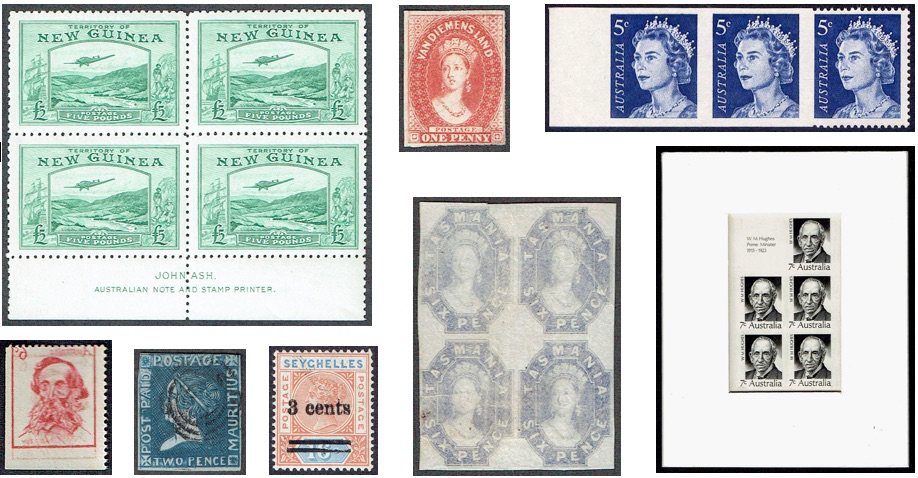 Our 63rd sale, which was an online auction only, and comprised 600 lots offering a wide range of Australian and world-wide material.
All Australian Colonies are represented. South Australia has several lots of 'Postage & Revenue' SPECIMEN stamps, including one sheet signed by Postmaster-General Charles Todd. Tasmania has some fine imperforate classics and covers and there is interesting postal history from the other Colonies, and collections of numeral cancellations from New South Wales and Victoria.
Australian Commonwealth has a fine group of Kangaroos, with a strip of six of the 1d plate from Sheet D (Die 2), and an exceptional used collection of 1d plate varieties. There are also a range of cancelled-to-order stamps and SPECIMEN overprints. The George V Sideface issues include some useful groups of plate varieties, particularly in the 1½d Die I. Important individual lots are a complete sheet of 1½d Red Die I Electro 22, and a block of 73 punctured OS from the scarce 1½d Red Die II Plate 1a.
There is a wide range of George VI issues, including remainder accumulations of most issues, plate numbers and printing varieties. Interesting lots are a 5/- Arms stamp on a 'provisional' publicity card, several years before these became a standard issue, and a part imperforate block of the 6½d green George VI. Amongst the Queen Elizabeth II is a 7/6d die proof that is not one of the presentation proofs. The decimal issues have further die proofs that have not been on the market previously, including the 1968 Macquarie Lighthouse, 1972 7c Prime Minsters (including one denominated 6c) and 1973 Famous Australians.
A good group of Postal Stationery is highlighted by a selection of aerogrammes, which includes the 1962 photogravure essay, and errors and a range of SPECIMEN and other overprints on decimal issues.
From the Rest of the World there are a number of collection lots, with some fine George VI groups, and bulk lots of various Central American countries. Great Britain features some interesting postal history, Mauritius has some very attractive 'Primitives' and Perkins Bacon issues, and there is a good range of New Guinea including N.W.P.I. and Mandate issues.