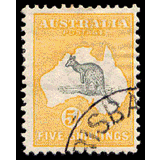 The William McCredie Collection (Lots 227-339)
Wednesday 22nd February 2012
"... a remarkable collection of unusual and rare
Australian Commonwealth specimen stamps."
We are privileged to offer the collection of Australian Cwlth Specimen and UPU Stamps formed by the late William (Bill) McCredie. While not as comprehensive as his Australian Colonies Specimens sold by us in June 2011, this collection is still remarkable for its range of unusual material. Bill did not make a detailed study of the cancelled-to-order and specimen sets sold to collectors, and these are fairly straightforward. The highlight is an example of the rare 3mm 'SPECIMEN' overprint on the £2 Arms (Fig. 1). To compensate, however, is a wonderful range of stamps distributed to the UPU with 'Receiving Authority' handstamps, many of which are the only examples recorded.
The Bechuanaland UPU collection came into the market in 1976. Most of the Australian issues were cancelled-to-order and received an additional 'SPECIMEN' handstamp. The bulk of these, each one unique, are in the McCredie collection. These include the 1913-14 Engraved 1d King George V (Fig. 2) and 6d Kookaburra (Fig. 3), the King George V Sideface Single Wmk (Fig. 4) and Small Multiple Wmk sets (the latter both normal and punctured 'OS') (Fig. 5), and the 1922-30 Third Wmk postage dues (Fig. 6).
The stamps supplied to the Portuguese Colonies received various additional handstamps, represented in the McCredie collection by the 1920-24 KGV Single Wmk issues handstamped 'COLONIAS' (Fig. 7), and the Small Multiple Wmk set handstamped 'Especimen' (Fig. 8). The latter is also found on the 1931 Kingsford Smith set. Later commemorative sets received a 'SPECIMEN' handstamp in green (Fig. 9).
The earlier 'ULTRAMAR' handstamp is represented on Commonwealth postage dues (Fig. 10), including a complete set of the 1909 bicolour issues. The £1 value of the same series handstamped 'MUESTRA' is also present (Fig. 11), and is also believed to be unique.
The McCredie collection is rounded off with a seldom offered range of stamps with the violet 'SPECIMEN' handstamp used for Post Office displays in the 1930s (Fig. 12) and (Fig. 13), and the unique 1948 1/6d Hermes with a different violet handstamp (Fig. 14), applied to a stamp presented by the Postmaster-General to the Governor-General of South Africa.