Welcome to our website...
Internet Sale 74 unsold lots now available for purchase.

Download Sale 74 PDF Catalogue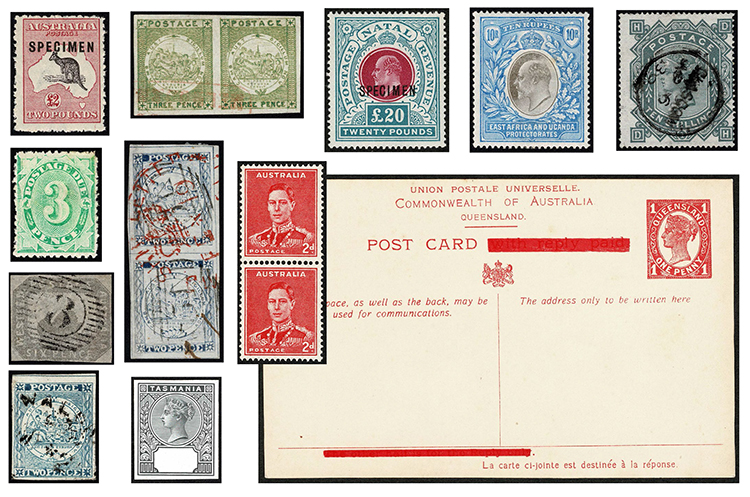 Welcome to our 74th sale, which was an online auction only, comprising 940 lots featuring a wide range of Australasian and All-World material.
Australian Colonies are highlighted by New South Wales, which includes a number of major Sydney View and Diadem rarities, as well as a wide range of later issues. South Australia, Tasmania and Western Australia include fine Perkins Bacon issues, including proofs. An interesting collection of Victoria includes a small correspondence from the 1850s to 1880s which has not been previously offered for sale.
Australian Commonwealth has a rare 1d Kangaroo first day cover, some interesting Kangaroo coils, a fine range of George V plate varieties, especially the 2d value, and a fine selection of decimal errors. The extensive selection of postage dues includes a number of individual rarities in both the monocolour and bicoloured issues, an excellent range of covers including a number of scarce and unusual usages. In addition there are several bulk lots of the various monocolour issues, rarely if ever offered in such quantities, and which should attract attention for further study of these issues.
An exceptional offering of Australian Commonwealth postal stationery includes many rare postcards, including essays and proofs, and a selection of the 1917 re-issued colonial cards. There is also a fine group of wrappers, including official issues, and several examples of stamped-to-order lettersheets.
Rest of the World has useful sections of Hong Kong, Natal SPECIMEN overprints, and St. Vincent Perkins Bacon issues. Finally, there is over 50 lots of Tristan da Cunha with the emphasis on modern postal history, including both souvenir and commercial mail.
Contact Email: info@millenniumauctions.com