Welcome to our website...
Internet Sale 70 unsold lots
now available for purchase.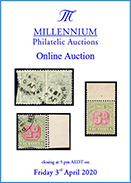 Download Sale 70 PDF Catalogue
Welcome to our 70th sale, which was an online auction only, comprising 1172 lots concentrating on the stamps and postal history of the Australian Colonies. All Colonies are well-represented with many fine proofs, single stamps, collections and covers.
The highlight is the finest collections of New South Wales and Victorian Postage dues ever formed. Broken into 161 lots, all the major rarities are included, with the 1d imperforate between pair, and the only known 5/-, 10/- and 20/- mint pairs from New South Wales, and mint and used examples of both the 1905-09 ½d mixed perfs and unissued 5d of Victoria. The covers are exceptional, including the earliest known usages of postage due stamps from both States, and no less than six combination State/Commonwealth usages.
New South Wales (326 lots) has fine Sydney Views, Laureates and Diadems, and the later issues include some fine De La Rue die proofs, and a good range of the Stamp Duty issues overprinted 'POSTAGE'. Queensland (70 lots) opens with an 1860 1d imperf unused, and has some fine Moreton Bay District covers. South Australia (108 lots) has some exceptional London prints, with a superb unused 6d, a strip of 3 2d used on cover four days after issue, and the unissued 1/- violet with Rowland Hill obliteration. There are many other fine stamps in the later issues, including mint and used examples of the 1902 'EIGNT' error. Tasmania (120 lots) has a good lot of the 1853 1d and 4d Couriers, the 1885 unissued 2/6d and 10/- Surcharges, some fine St. George & Dragon revenues, and several exceptional postage due covers. Victoria (269 lots) has fine Half-lengths, including covers, and with a wonderful 2d Sixth Printing Retouch unused, a good lot of Stamp Duties mint, and all the £1 and £2 Edward VII, including the rare £2 perf. 11. The postal history includes a good group of deficient postage covers. Western Australia (101 lots) has some fine early imperfs and roulettes, an exceptional group of the difficult 1861 Perkins Bacon printings, and excellent collections of the Commissariat punctures as well as OS and WA punctures. Highlight of the postal history is an 1845 entire from Perth to Canada. The New South Wales, Victorian and Tasmanian section feature a fine selection of 1d town rate covers, including a number of first issue examples.
A smaller than usual Australian Commonwealth offering is highlighted by a large accumulation of the 1½d Red King George V Die II, suitably lotted.
Contact Email: info@millenniumauctions.com