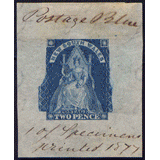 General Sale No. 53

featuring Fine Australian Colonies
Wednesday 7th November 2012 at 11am (Lots 1001-1812)
"... featuring the largest used multiple
of any imperforate Australian Colonies stamp."
General Sale No. 53 features fine Australian Colonies stamps and postal history. New South Wales comprises nearly 300 lots and commences with a magnificent offering of the Diadem issues, including the famous proof sheet of 120 of the 2d Plate I sent back to London for repairs (Fig. 1), die proofs, the 6d with Perkins, Bacon 'CANCELLED' obliteration, and the largest used multiple of any imperforate Australian Colonies stamp - a used block of 32 of the 1/- Brownish-red (Fig. 2). Several beautiful multiples in the perforated issues show the ornate marginal burélage (Fig. 3) and (Fig. 4), and the 5/- 'Coin' issue includes a die proof (Fig. 5) and an outstanding range of plate proofs in various colours (Fig. 6). The stamps are supplemented by an exceptional range of uses on cover (Fig. 7), (Fig. 8) and (Fig. 9).
A fine range of pre-stamp mail includes a strike of the 'SYDNEY/NEW S.WALES' handstamp - the first postmark used in Australia (Fig. 10), the famous 1836 Hassans Walls cover (Fig. 11) - offered publicly for the first time in over a generation, a 3 July 1837 letter written by Captain Charles Scott (Fig. 12) - believed to be the earliest known letter written from Melbourne remaining in private hands (with a further three letters from the same correspondence), and an 1838 cover showing the unique 'VIA/MUSCLEBROOK' marking (Fig. 13). Also featured is mail written to and/or from or connected with Colonial personalities including Rev Samuel Marsden, Sir Thomas Mitchell, Sarah Erskine (wife of the Lieutenant-Governor), George Smith (former convict and later Sheriff's bailiff), John Dunmore Lang, Sir Charles Nicholson, 'Banjo' Patterson and Sir Stuart Donaldson, etc. New South Wales concludes with a significant collection of the TPO markings.
Queensland features two major registered covers from the Moreton Bay District, the first a very rare use of the perforated (6d) Registered stamp on a sextuple rate cover (Fig. 14), and the other a magnificent four colour franking of the 1d, 2d and 3d Diadems with the (6d) Registered (Fig. 15). There is also a very exotic incoming letter from Sardinia (Italian States) to Gladstone. Victoria includes an impressive array of destination mail, with two major exhibition items being a wonderful 1858 registered cover to the Italian States bearing strips of five each of the 3d Half-Length and 1/- Octagonal plus a 1d Emblem (Fig. 16), and a gorgeous 1859 cover to Poland (Fig. 17).
Australian Commonwealth includes a near-complete range of mint Kangaroo and Map stamps, the highlights being the £1 and £2 First Wmk punctured 'OS' (Fig. 18) and (Fig. 19) of which very few mint examples exist, plus an example of the Sperati forgery of the £2 Kangaroo. Rest of the World features Bahamas overprint errors (Fig. 20), a useful range of Germany, a fine selection of New Zealand Chalons, and what is believed to be the only known registered cover from Canada to Papua (Fig. 21).