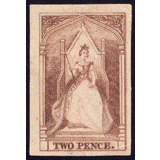 Fine Stamps and Covers

of the World
Wednesday 22nd October 2008
" . . . continuing the annual Rarities Sale concept, re-introduced to the
Australian auction calendar by us in 2002."
We have great pleasure in presenting our 2008 sale of Fine Stamps and Covers of the World. Now in our 7th year, we are delighted to be continuing the annual "Rarities Sale" concept, re-introduced to the Australian auction calendar by us in 2002. As in past years, this sale features many wonderful items for the discerning philatelist. However, in a break with the past, our sale this year sees a slightly different approach with the inclusion throughout of more general single lots and collections. In this way, we feel that all of our clients will find material of interest to their particular collecting endeavours. As always, our appreciation and thanks go to our many loyal vendors for entrusting the wonderful items being offered in this sale.
The sale commences with a range of Literature, including auction catalogues. Australian Colonies feature superb New South Wales Stamp Duty proofs (Fig. 1); Tasmania Pictorial proofs; and in Victoria, original 1850's printing contracts (Fig. 2), Half-lengths, 2d Queen-on-Throne issues and Ray Kelly's award-winning collection of the 1895 Havelock-Foster's Postcard (Fig. 3).
Australian Commonwealth highlights include the 1911 Stamp Design Competition Essays by Luke (Cockatoos and King George V), eight in all, affixed to one card (Fig. 4); Kangaroo issues with, in First Wmk, the 1d sideways wmk in a mint block of four, the 1/- inverted wmk in a CTO block of four and a marginal mint example of the 10/- punctured large 'OS' (Fig. 5); in Second Wmk, the 6d in a mint block of four; in Third Wmk, the 3d and 6d in 'T.S. HARRISON' imprint blocks of four (Fig. 6), the 1929 London U.P.U. Folder with CTO values to £2, and a range of 'SPECIMEN' overprints; in Small Multiple Wmk, values to £2 mint; and in CofA Wmk, the £2 in a 'JOHN ASH' imprint pair (Fig. 7) and 'SPECIMEN' overprints in pairs or blocks.
The King George V issues feature the 1d Orange-Red inverted wmk mint, 1d 'CA' Monogram block (Fig. 8), 1d Red Die III Monogram strip, 4d Violet and 4d Orange 'T.S. HARRISON' imprint blocks (Fig. 9), as well as many other varieties and flaws. The pre-decimal issues are highlighted by the 1937-49 1/- Lyrebird Plate No. '4' block of eight (Fig. 10); there is a strong section of Decimal errors, with several not seen on the market for many years; and finally a select representation of Postage Dues, Postal History and Aerophilately.
Rest of the World features fine British Empire in Africa with Cape of Good Hope, Oil Rivers, Northern Rhodesia errors (Fig. 11) and the Sierra Leone 1933 Centenary set complete in sheet number singles. Other highlights include Falkland Islands King George V 2½d on 2d used on piece, a Printer's Proof of the 10/- (Fig. 12) and the 1933 Centenary set; Great Britain QV £5 (Fig. 13) and several rare missing colour errors, including the 1966 Technology 6d 'Red Omitted' (Minis) used (Fig. 14) [one of two recorded], as well as the Ships and Birds issues; in Nauru, the unique 1924 Ships Die Proofs in green (Fig. 15), with values to 10/-; and fine sections of New Guinea, New Zealand with strength in coils, KGV issues and high value fiscals (Fig. 16) and Tonga postal history, including bisects (Fig. 17). The sale concludes with a range of World collections and accumulations.